There is a facility to add files and content - eg sitemaps, information about the event and downloadable files. This can also be used as a custom home / welcome page.
The guidance below is for event administrators/ organisers. If you are an end user (eg. submitter, reviewer, delegate etc), please click here.
Go to Event dashboard → Conference → Program Builder ➞ Settings ➞ Information ➞ Manage Information
The Manage Information panel will appear in the middle of the screen.
There are three tabs: Information, Further information and Downloads.
1) At the top of the window, you will see there is a checkbox that gives you the option to make the data entered into these fields publicly accessible
2) Information
3) Further Information (you can create a second page of information)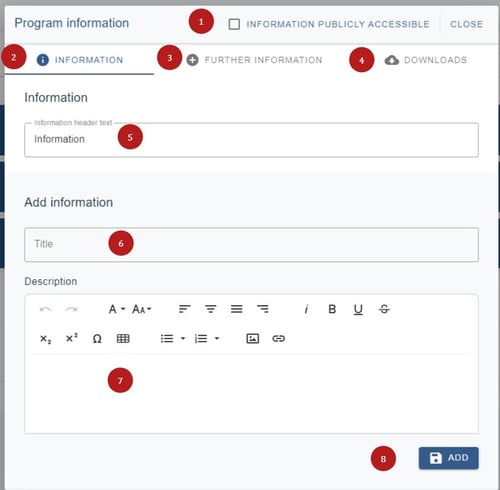 2) and 3) Information and Further Information
You can enter the data below in either of these tabs.
5)
Information header text -
this will be the header on the published program. The default label is
Information.
Enter a different label, if you require.
Add information -
6) Title - Enter the title of your information - eg: Information A
7) Description - Enter the description of your information - eg: Description for Information A
Click the blue ADD button at the bottom right of the panel when finished. You can then continue to add additional pieces of information in this way.
This will be reflected in the published version of the program.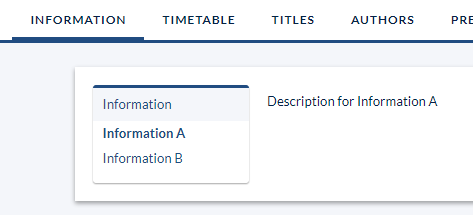 To remove any Information items, click the bin icon next to the item you wish to remove and click Save.

You can also change the order that they will appear in the program by clicking the checkbox next to Change order
and then dragging and dropping the information to the order you require.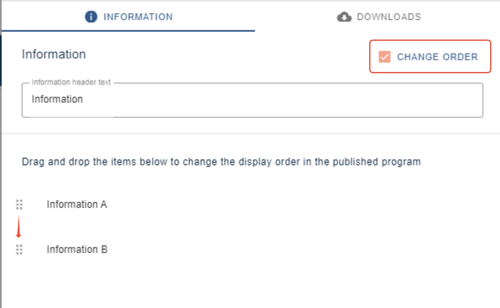 Downloads
If you want to add files for users to download, click on the Downloads tab.
Change the header, if you wish (guidance above). Click the Upload new file button to add files.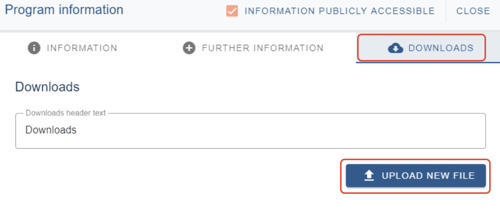 Navigate to your chosen file, and rename, if you wish.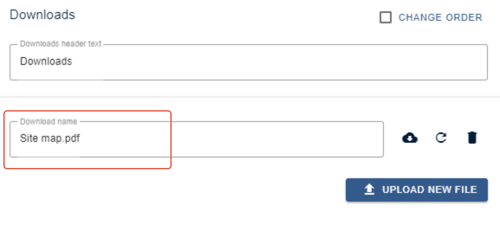 The icons to the right of the Download name field, from left to right:
Download file, Refresh, Delete

This will be reflected in the published version of the program.