Setting up your conference platform
Amending, deleting and copying a session
If you wish to edit a session, click on your chosen session and continue as with creating a session.
The guidance below is for event administrators/ organisers. If you are an end user (eg. submitter, reviewer, delegate etc), please click here.
You will notice the four icons to the top right of each session. From left to right:
1) Preview - click to see how the session will look to a user.
2) Move session
3) Copy session

Move a session
To extend the session across columns, click on the Move icon, then drag the side border(s) to your required time slot. The session must be dragged to an empty time slot.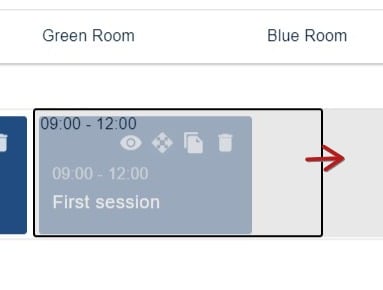 Copy a session
The thrd icon is the copy icon. This is a quick way to create a new session if several of the details can be duplicated.
Click on the icon.

Click in the time slot where you would like the session to be copied to. Click the green copy icon when you're done, or the red cross to cancel.

Deleting a session
To delete a session, click on the bin icon. NB - you cannot delete a session with abstracts attached to it.