Opening / closing registration (old version, pre 2023)
In order to make the delegate registration system live, you will need to open registration.
The guidance below is for event administrators/ organisers. If you are an end user (eg. submitter, reviewer, delegate etc), please click here.
Go to Event dashboard → Registration → Delegate form
The Delegate form will be displayed. At the top of the form, below the various links to set up delegate registration, you'll see the settings to publish your registration form.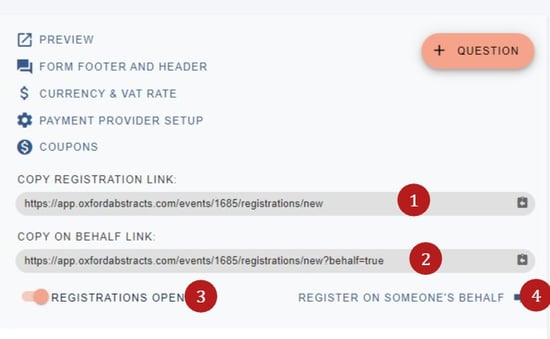 1) Click to copy the URL (link) for the delegate registration form. This link should be published in relevant website and/or emails.
2) The URL (link) for anyone to register on behalf of a third party.
3) The slider to open and close registrations, when you are ready to do so.
4) Click this link if you, as an admin, would like to register on behalf of a third party.