Publishing your program is simple, and any changes you make after publishing will be reflected in the live program.
The guidance below is for event administrators/ organisers. If you are an end user (eg. submitter, reviewer, delegate etc), please click here.
Skip to the differences between the public and full access program.
Go to Event dashboard → Conference → Program Builder
When you are ready to publish your program, navigate to the top left hand of your program builder screen, and click on the down arrow next to UNPUBLISHED to reveal the options.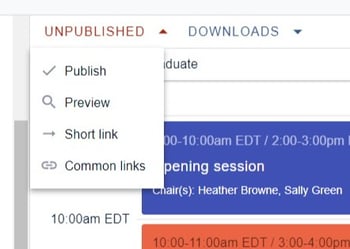 Clicking on Publish will make the program live.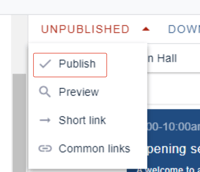 Once the program is published, the status will be reflected in the drop down header. You can then unpublish / take the program offline by clicking the Unpublish option, as and when you require.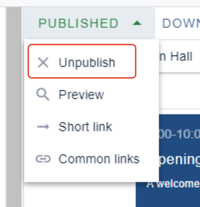 Click Preview to see how the program will look.(NB: You will be viewing the program as an administrator so will see extra features that an end user won't - eg reported groups)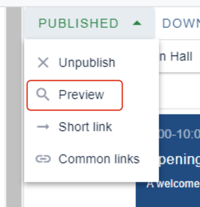 Click on Short link to create your own url suffix. You can also create a QR code in this section.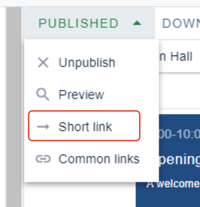 Common links reveals the links you will need to share on your website or in emails.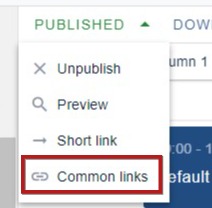 The options, if you have the Professional Conference package, are as below.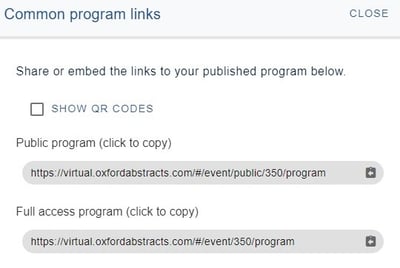 NB: If you have the Standard Conference, or have selected Open access, in the Professional Conference version, there will be only one link.
At the top you will see an option to show a QR code. Check the box if this is required. You can then copy and paste the QR code in any publicity materials, on or offline.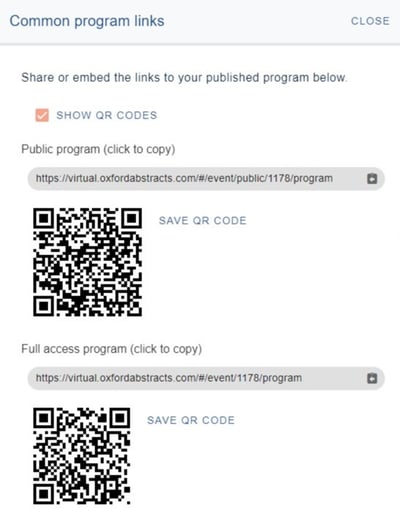 Then choose which version of the program you would like to copy and share. You can publish both simultaneously if you wish.

The table below contains the features that will be viewed by the user in each version of the program.
| | | |
| --- | --- | --- |
| Feature | Public program | Full access program |
| Abstract title, authors and affiliations | Yes | Yes |
| Abstract content including posters and presentations | No | Yes |
| Live and on-demand content | No | Yes |
| Poster gallery | No | Yes |
| Chat feature | No | Yes |
| Networking - eg viewing and creation of name badges | No | Yes |
| View comments on sessions | Yes | Yes |
| Create new comments and respond to existing ones | No | Yes |
| Chat feature - view messages in group, event and private | No | Yes |
| Chat feature - create and respond to group, event and private messages | No | Yes |
| View sponsors | Yes | Yes |
| Set timezone | Yes | Yes |
| View event-wide extra content (ie. information / welcome messages etc) | Admin controls | Yes |