After you have set up delegate registration key details, you can begin to set up your delegate registration form.
The guidance below is for event administrators/ organisers. If you are an end user (eg. submitter, reviewer, delegate etc), please click here.
Go to Event dashboard → Registration → Delegate form
The delegate registration form will be displayed. At the top of the form, is where you enter your settings.
Numbers 1-5: See Setting up delegate registration
Red box: See Registration form question types
Green boxes: See Opening / closing delegate registration
Orange box: See Registering for an event on behalf of someone else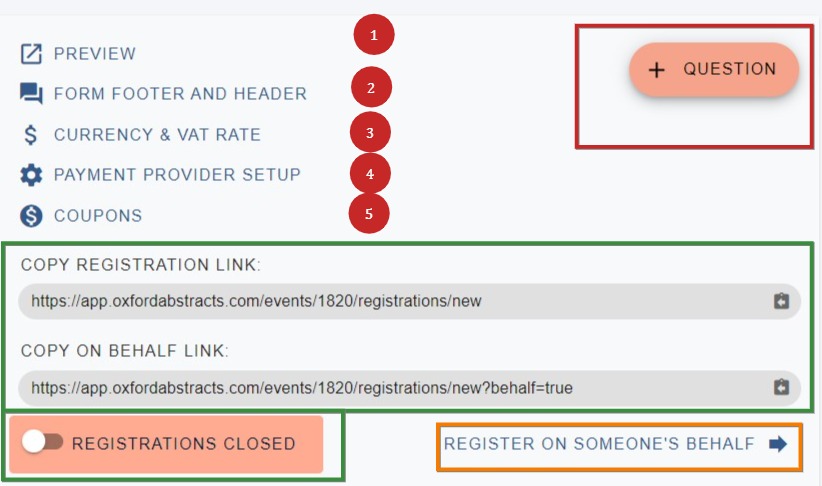 Below the settings you will find the default form. See here for setting up Conference events and Conference tickets.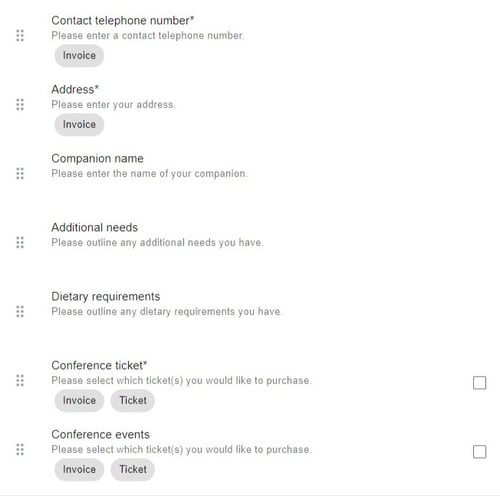 Tags
You will see tags on some of the questions. Invoice and Ticket
Ticket - will appear on ticket questions by default
Invoice - will appear on the invoice
Click on any question other a ticket question. You will see two checkboxes. Check the one marked Invoice for the responses to this question to appear on the invoice
NB: See Setting up payments for delegate registration
for setting general invoice settings.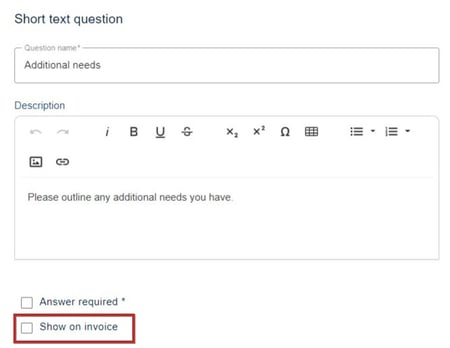 Editing a question
Click on any question to edit.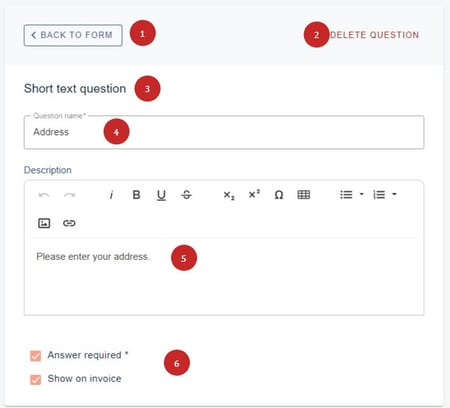 1) Back to form: Click here to return to the form. Any changes that you make will be saved automatically.
2) Delete question: Click to delete the question. (NB : This will permanently delete the question and all data related to it. Pricing questions that have responses will be archived rather than deleted so that the purchase history of all delegates is preserved.)
3) Short text question refers to the type of question. See Registration form question types for more info
4) Question name: enter the title of the question here.
5) Description - enter the description here (optional)
6) Answer required: Check this box if the answer is mandatory (note - if mandatory questions are left without a response, they will be marked as incomplete.
Show on invoice: See above.