Guidance for committee members
Assigning submissions to reviewers as a committee member
If permissions allow, committee members can assign submissions to reviewers.
NB: The guidance below is for committee members. If you are the administrator of an event please see The decision stage.
After logging in to your personal dashboard, click on the event you have been assigned as a committee member.
In the committee screen, you have the choice of assigning reviews by submission, or reviews by reviewer. Click on your chosen option.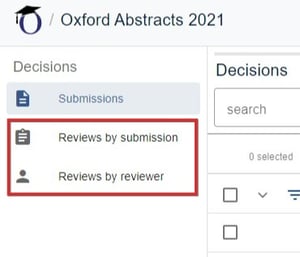 For guidance on assigning, see Assigning and unassigning a submission to a reviewer.