It's a very simple process to get you started with using Oxford Abstracts.
Skip to Forgotten password.
Before you can use Oxford Abstracts for reviewing, submitting or any other associated role, you will need to create an account with us.
You only need to do this only once and this will enable you to do everything that you need to do on the system, whether you are an account or event administrator, a submitter, reviewer, delegate or committee member.
You can choose to log in with Google, LinkedIn, or create an account with Oxford Abstracts.
If you choose to log in with Google or Linkedin, you will have the option to request a password creation email. You may want to do this if you decide you want to disassociate your Oxford Abstracts account with your third party one.
NB: If you have been invited to create an account by an event admin (e.g. as a reviewer, committee member etc), it is imperative that you create an account using the email address specified in your invitation email.
Go to: https://app.oxfordabstracts.com.
You will be required to enter an email address, create a password and enter your name.
Enter your email address in the field illustrated below.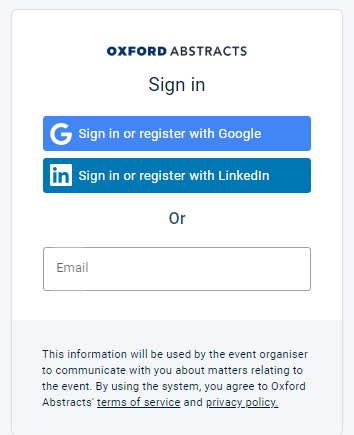 The system will recognise if you aren't registered and will prompt you to register.
Click on Email not found, register?
Complete all fields and click on Register.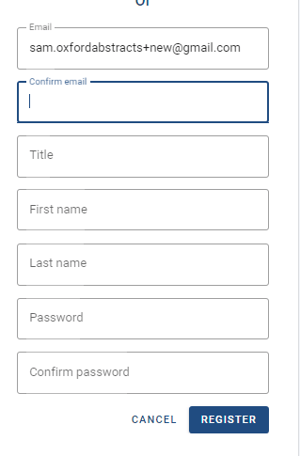 You will be required to verify your email address if a new user and not logging in via your Google account.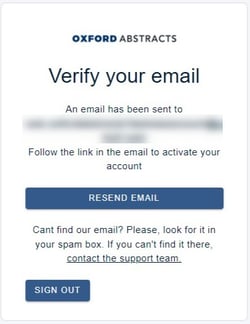 Check your emails and click on the blue button to verify your email address. You can then start using the system and will be directed to your personal dashboard. Ensure you check your spam folder, if the email doesn't arrive in your primary one.

Forgotten password
Click the Forgot my password link.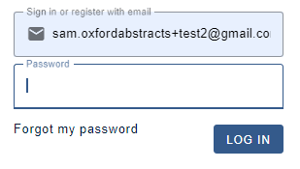 Click the Send me a reset email button.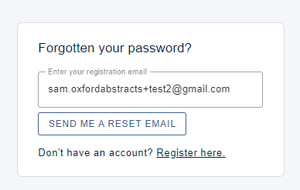 Follow the instructions that will be sent to your registered email address.
Check your spam folder if the reset link doesn't appear in your inbox.