When you and your committee have made your decisions, you can then notify your submitters
Go to Event dashboard → Emails → Edit and send
You will see a list of template emails (listed under Automatic and Manual) for the event.
Scroll to the Manual section.
You can choose to send an email to all accepted submissions, or one that will populate the relevant merge fields according to the type of acceptance - eg. accepted for poster, rejected etc.
Click on the type of email you wish to view/amend, and make the required changes to the body of the email and add the relevant merge fields.
If you choose the second option, when you click Review and send, you can choose to Filter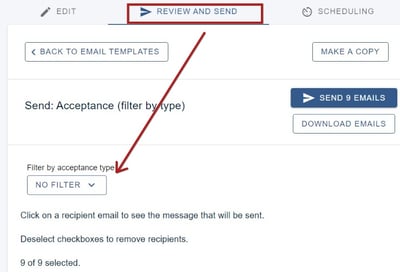 Once you have selected your filter, the list of emails with this acceptance type will appear in the section below, along with the amount on the blue Send button. You can choose to check how the message will look to that recipient by clicking on the email, or go ahead and click the blue Send button.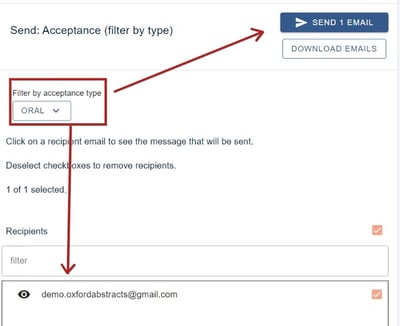 You can then go back and amend the email for the next acceptance type, and repeat the process.