Find out how to optimise your poster submissions by displaying them in the poster gallery.
NB: Posters can only be uploaded in a PDF format.
Setting up your poster gallery will need to be undertaken in stages. The first stage is to set your submission form up to collect posters.
Go to Event dashboard → Form → Submission form → +QUESTION
Scroll down the list of questions to add an Upload file question, then click CREATE SELECTED QUESTION.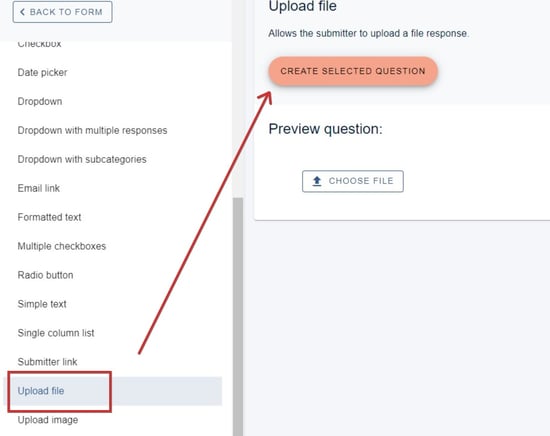 Fill in the details (see Question types for further guidance).
At the bottom of the question fields, tick the checkbox next to 1) Poster gallery upload.(checking this will automatically restrict any uploads to pdfs only)
If you would like to enable users to download the posters, you should also check 2) Include poster download button checkbox. In order for the posters to be visible in the program, you will also need to check 3) In program.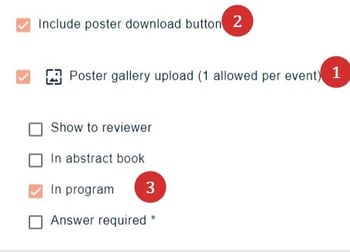 Click Create Question at the bottom of the page when you are done.
---
Adding poster keywords
If you require, you can set another question to allow submitters to add keywords, to enable searching by keyword on the program.
Click +QUESTION
Pick only one of the following. Submitters can choose:
1) just one keyword from a choice created by the administrator
2) multiple keywords from a choice created by the administrator
3) to add their own keywords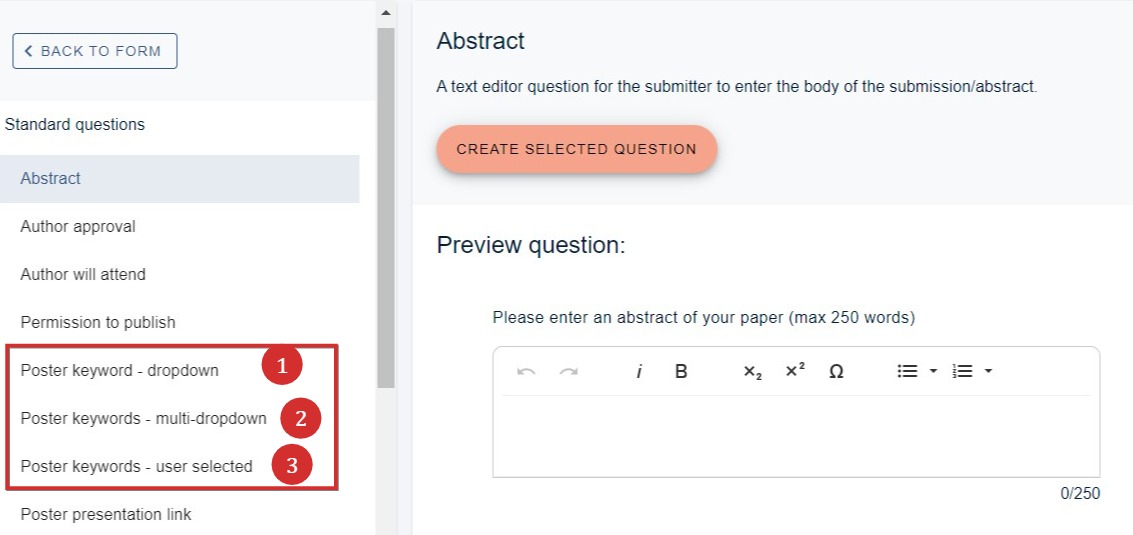 Make your choice, click CREATE SELECTED QUESTION and complete the details.
---
Once submissions are in and the reviewing stage is complete, you can then go to the decisions table to complete the next stage.
Ensure the columns below are visible. (See the decisions table)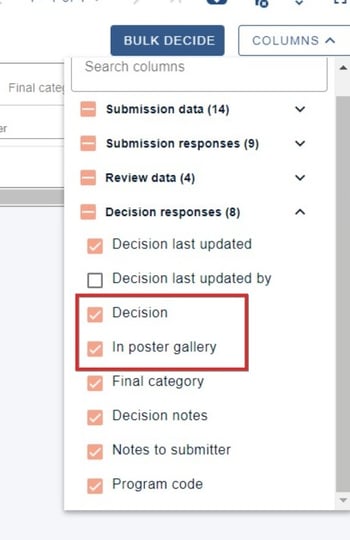 Scroll to the Decision and In poster gallery columns
For each submission that you want included in the poster gallery, ensure you accept the submission and check the In poster gallery checkbox.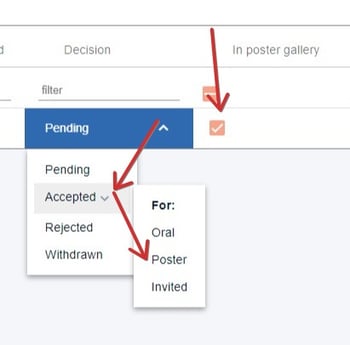 ---
The poster gallery view in the conference program
In the left hand menu, you will see the poster gallery icon. Click to view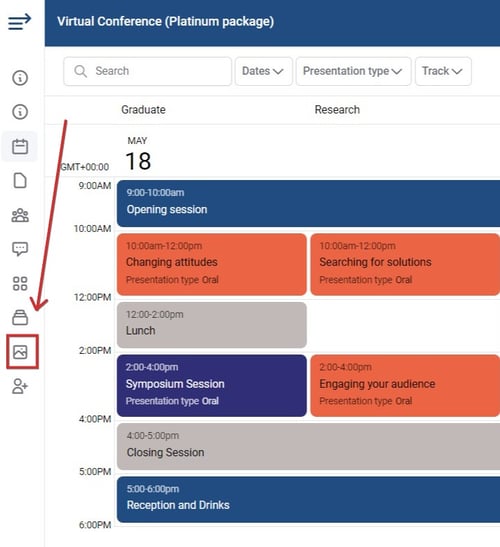 The poster gallery will then display. Users can
1) Search using any term
2) Sort alphabetically
3) Choose list or grid view
4) Choose posters according to the sessions they appear in (to add posters to sessions, see Attaching content to sessions
5) Filter by tracks (see Setting up your program - configuration) or / and 6) keywords (see above).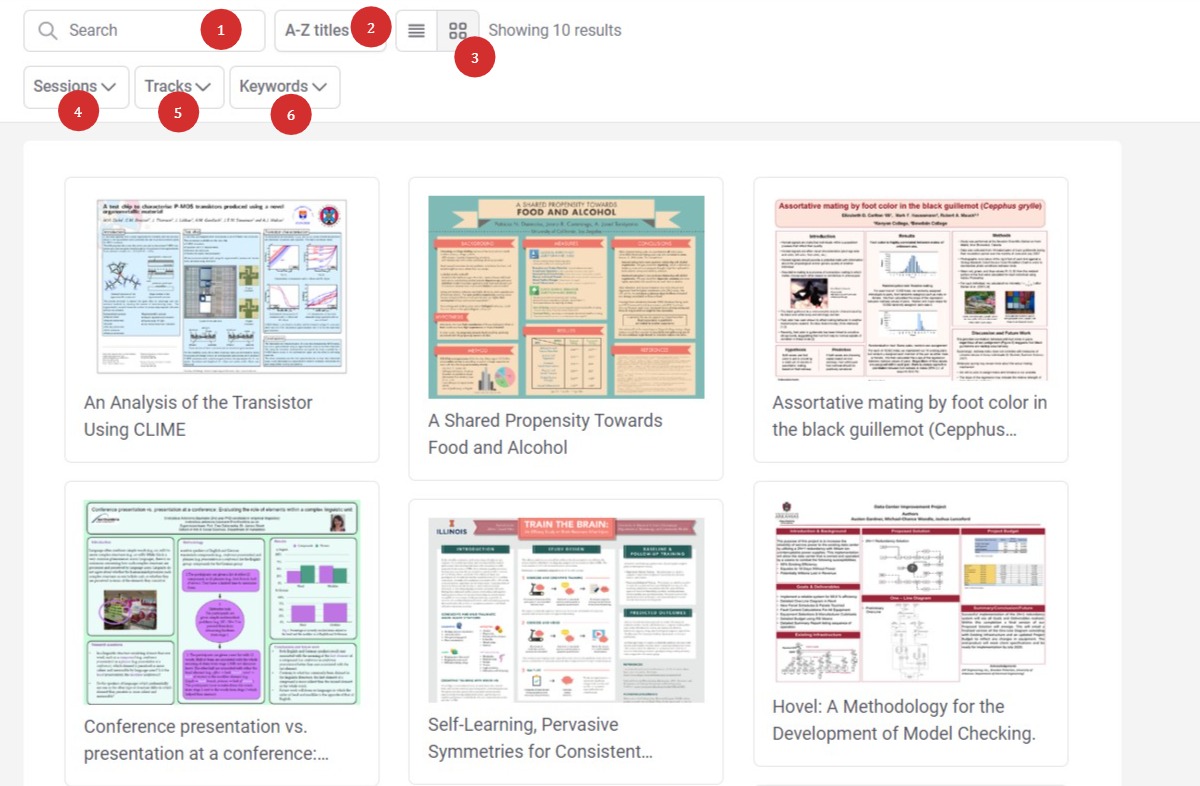 Clickng on an individual poster will allow the user to
1) Download the poster if permissions are set (see above)
2) View the full abstract details (see Question tags to set visibility of the submission form data)