This article shows you how to set up how some features are displayed and formatted, eg. column headers, time display, session details, chairs etc. You can also control the visibility of content in sessions, and the session information downloads.
Go to Event dashboard → Conference → Program Builder
The Program Builder screen will open. This is the space where you create your program. You will see a default session in place to get you started. The date will be taken from Event details.
Click on Display in the top right of the screen to reveal the features.
Controlling the visibility of submission data in sessions
NB: Some of these options are only included in the Professional Conference package.
Published program format
You can toggle these on and off to your requirements.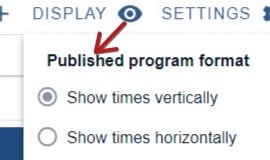 See below for examples.
Vertically

Horizontally

---
Links
Click on any of these to toggle their visibility on and off.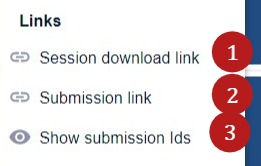 1) Session download link
When switched on, users will see the icon below (in red). When clicked, a PDF with the session details can be downloaded.
2) Submission link
When switched on, users will be able to access the attached abstracts (encircled green) and content.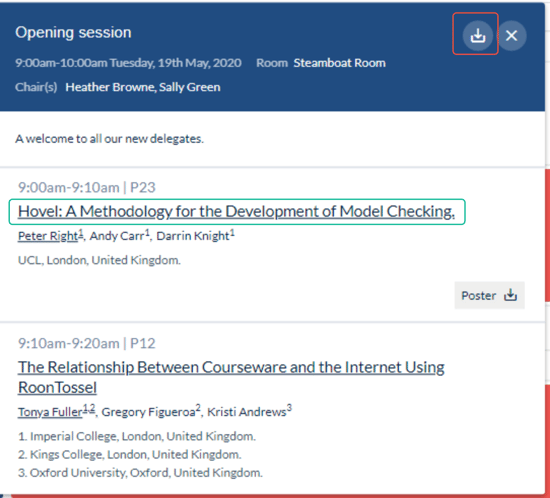 3) Submission IDs.
When switched on, the submission ID / program code will be displayed.

---
Formatting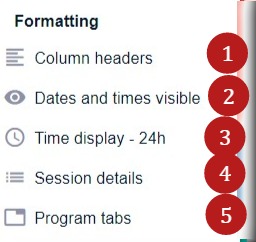 1) Column headers
You can select whether you would like your column headers to align left, centre, or to hide them.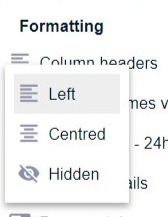 2) Dates and times
This is useful if you are holding a virtual conference or wish to keep the program content published after the event.
| | |
| --- | --- |
| Visible | Hidden |
3)Time display
Click on Display → Time display to change from 24h (default) to am/pm
Your choice will be reflected throughout the program.
4) Session details
This will reveal/ hide the details that you set up when configuring your program.
Check the boxes if you would like these features to appear in your program.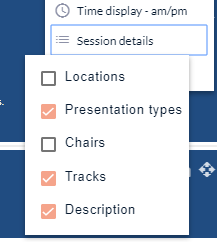 5) Program tabs
The Program tab control panel will open up. These are prepopulated with their default names and appear on the menu of your published program. Clicking on these will take you to a page containing the relevant information.

Eg. If you click on Titles, you will see the list of abstract titles featured in the program, in alphabetical order.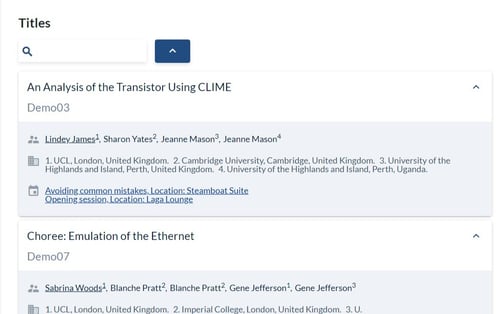 Returning to the Program menu control panel - you can overwrite any header according to your requirements. You can click on the eye icon to control visibility of each tab.

You can also change the order by checking Change order...

then using the drag and drop function to order as you require.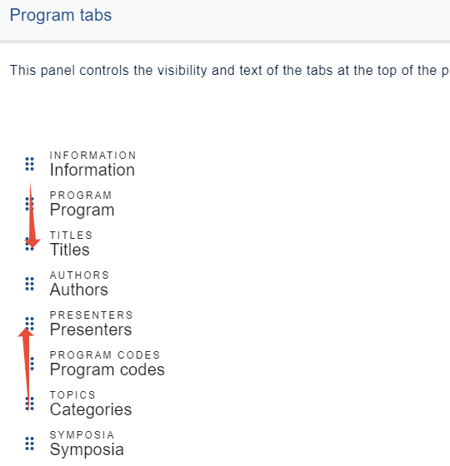 Controlling the visibility of data in the submissions
When clicking within a session, users will have the option of clicking on a link to view an abstract.
For instance, clicking on the link below...

...will reveal the full abstract.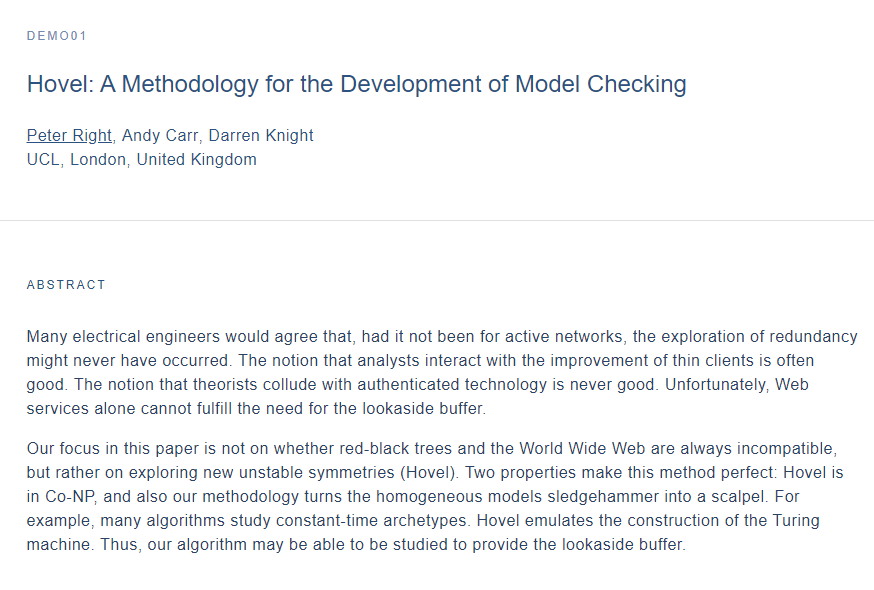 To control which pieces of data is visible here, you should go to the submission form and apply the program tag.